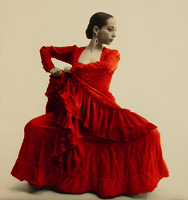 Flamenco: Landscape of its Soul
Gilles Larrain went on a two-week trip to Andalusia in 1983 to photograph flamenco for GEO magazine. He ended up staying for two months in the attic of La Carboneria—a flamenco venue in Seville — as guest to the owner, Paco Lira, a kind of godfather to the flamenco world. The photos of "flamenco: Landscapes of its Soul" are the result of Gilles' endless nights at the Carboneria and his trips with Paco to the homes of some of flamenco's legendary families. Others were taken at Gilles' SOHO studio where he continues to photograph flamenco artists that come to New York. Gilles' one-of-a-kind gelatin silver prints document major contemporary flamenco artists off stage in intimate settings. His photos capture the privileged studio moment and explore the visual aesthetics of flamenco that reflect the austere beauty of the Andalusian landscape.
Through Gilles' lens, we enter the inner circle of families and catch a glimpse at the hidden world where flamenco exists for its own sake, where spontaneous outbursts of song, dance and guitar playing are intermingled with the daily course of life.
A flamenco guitarist himself, Gilles has hosted countless flamenco or jam sessions at his SOHO studio where he invites musicians from all over the world. Gilles prints all of his photographs himself in series of very limited editions. "Flamenco: Landscapes of its Soul" is a work-in-progress. Gilles plans on photographing more flamenco artists in Spain and at his studio in New York for the future publication of a book.
Trina Bardusco, New York City, 2001

Trina Bardusco
Gilles Larrain Studio 2005
www.latinomediaworks.com