Gilles Larrain Captures Duende with a Camera
By Julienne Gage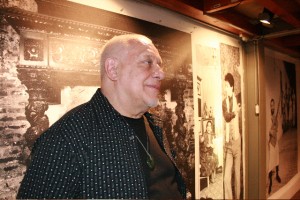 Stepping into the basement of photographer Gilles Larrain's SOHO studio in New York City is a bit like dipping down into a gypsy cave in Spain. Old copper pots hang in the kitchen above a long rustic table that serves as a gathering place for spontaneous parties of wine, cheese, and Larrain's own flamenco guitar playing. On the other end is an even more intimate space for Larrain—his well-lit photo set. From Miles Davis and John Lennon to Glenn Close and Salvador Dalí, Larrain has captured the essence of hundreds of celebrities in three-decade career, but flamencos are the artists he most loves to photograph.
"This is my space, these are my lights, they come and we sit and talk like we're talking now, drinking, eating, and from there I take your picture, that's my aesthetic," reflects Larrain during an interview with Tablao Magazine from that very space.
The familial ambiance has drawn the likes of Belén Maya, Son de la Frontera, Maria Pagés, Eva La Yerbabuena, Pedro Bacán, Calixto Sanchez, and Antonio el Pipa. Even the Gypsy Kings used Larrain's portrait of them for the cover of their 1988 self-titled album. The artists stare at you wistfully in black and white from the larger-than-life portraits that line the rest of the studio and main floor gallery. It's as if they know they just got caught being themselves, and that's exactly what Larrain has always hoped to accomplish.
Larrain's fascination with flamenco began with a 1961 when, during a break from his architecture studies in Paris, he hopped on a motorcycle and made his way to Spain with a guitar strapped to his back. At the invitation of the Domecq Cognac company owners, Larrain showed up at a gypsy birthday party in Jerez de la Frontera and found that everyone was stomping their feet and twisting their hands to a wild Iberian rhythm.
"It just hit me to see this body, this dance, this desire, this duende, this passion," recalls Larrain, his eyes dancing as he imagines the scene. "Flamenco was like a virus, like a sickness that never left me."
It wasn't just the aesthetics, it was the sense of cultural convergence, and a sense he could relate to his own upbringing. Born in the mountains Dalat, Indochina (now Vietnam) to a French-Vietnamese mother and a Chilean Basque father, the 71-year-old Larrain carries fusion in his blood. His own childhood was a caravan of countries that took him to live in Chile, Argentina, France, and the United States, where he ultimately settled several decades ago.
Ironically, he has architecture to thank for his portrait career. On a college trip to Oaxaca, México he found that photos worked better than sketches for analyzing the structural details of Aztec ruins, and then he discovered those photos worked even better at capturing the souls of those he hoped to understand.
"I realized that photography was a way to ask questions and obtain answers…the question, click, and the answer's right there," he explains.
Over the years, that old flamenco bug never left his body and in 1983, Larrain was given an opportunity to catch duende on photo paper. Geo Magazine agreed to send Larrain back to Andalusia on a two-week assignment to photograph flamenco culture, so Larrain hired a Spanish fixer, crossed the Atlantic, and found himself on yet another wild adventure. The fixer, it turns out, had no real "ins" with the gypsy community. Forced to strike out on his own, Larrain began to walk through Seville with his musical ears as his guide. He stepped into a bar where he noticed a gypsy, sat down to share a drink with him, and confessed that he was lost, desperate to find the city's authentic flamenco community for a photography exhibit. The man took him straight to Paco Lira, the owner of Seville's most popular flamenco house, La Carbonería.
Like an honorable godfather, Lira gave Larrain a place to sleep in the attic of La Carbonería and convinced him to extend his stay. For the next two months, Lira took Larrain on a tour of every flamenco bar, cave, and patio party in the city. Larrain's first subjects were some of this century's greatest flamencos – Mario Maya, Chocloate, Agujetas, El Farruco. As word spread of Larrain's talent, it seemed there was a never-ending list of flamenco dancers and musicians asking to give their souls to his camera, there and in his New York studio.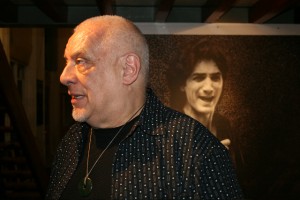 "I'm a payo, not a gitano, but they see that I have this love for this art. I play a little guitar, I make a connection with them, and they see all these photos and they know what I'm trying to do with them," he says.
His objective is clear: find out who you are, not dress you up in fluffy polka dot dresses or tall black pants for a cliché advertisement. But he might ask you to dance, to sing, to step through the door of your home into your own private world as he photographs.
"It's a beautiful art because you capture the magic of the moment. Native peoples in places like Africa and Asia often say that taking a photo is stealing someone's soul. They're right because there is something that exists in that picture. When you take a picture you fish out a part of that person and now its caught on a negative," lectures Larrain.
And yet time and again flamenco's most popular figures have agreed to open their emotional chests and let him click away at what he finds. Asked about his most favorite moment of flamenco photography, his eyes glow and he recalls a time when the late Mario Maya came in to see a picture of himself that Larrain had put in an exhibit in Guadalajara, Mexico. "He came into the exhibit and he sat there staring at the photo saying, 'That photo is me! That photo is me!' and that was really something. 'This is me here! That's no lie' and that's what opened the doors, you know?"
Photographs like that one have been collected in Larrain's popular 2006 portrait book book 'Paisaje del Alma'. They also attracted the attention of another flamenco documentarian. New York-based filmmaker Trina Bardusco, producer of an HBO Latino documentary on Luis Agujetas titled 'El Turista Soy Yo', is shooting video of Larrain for a 2011 Spanish series called In Search of the Duende. The project looks at how Larrain's interaction with flamenco artists awakens duende. She hopes to follow him back to Spain this year to depict him on the photo set with more flamenco artists.
"If I didn't think that Gilles captured duende, I wouldn't be interested in doing the documentary," Bardusco told Tablao Magazine. He's as tough as flamenco, as the flamencos, so he knows where and how to get the best out of them. And when I say best, I don't mean what you would see rehearsed for the stage, I mean those intimate moments when an artist bares all and lets us see beyond the pretty."
Fortunately for the flamencos, Larrain's photography has captured the essence of their cultural and artistic identity—to turn life's rough and tough elements into something that is incredibly pretty.