Salon Bohemia.
By Nicole Durbin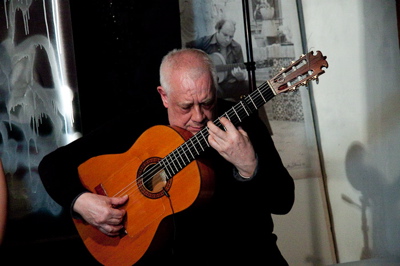 Photography by Arthur Eisenberg. Gilles Larrain
Art Salon: Where creativity is cause for celebration. That's not the official tagline of the Salonistas, but it may as well be. As anyone who's been paying attention already knows, Art Salon is the monthly fête where featured artists Gilles Larrain, Louda, and Thomas Shelford invite us all to observe their artistry – or even take part – while mingling with the new creative class of NYC. Not bad for a Thursday night.
Though Thomas Shelford is always a major presence at Art Salon, this month was special. Shelford unveiled his latest allegorical self-portrait, "The Purist," along with the sketches, drawings, and color studies that informed the final work. He was happy to indulge party-goers with an explanation of his process.
"I don't like to work from photography when I do figurative paintings, so this took about 80 hours in front of a mirror. In order to create an image without using any photography, from life, it's very helpful to build up to an image. This is some evidence of the process here…. I progressed from there through various stages, refining, trying out difference color combinations, refining, trying the whole thing in black and white to get a value structure. Then you put all these pieces together and end up with this finished product."
Shelford also expounded on the inspiration and purpose of the piece. "It is a self portraint, but I'm also creating a persona, a character… In the background are improvised Mark Rothko paintings. I want to bring together the two sides of the brain. The physical organic form and the abstract idea…. You can see these abstractions next to an organic form. They also represent the intellectual world that this figure is preoccupied with."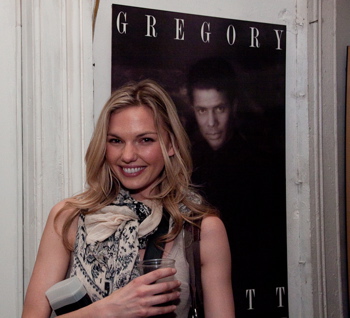 Patron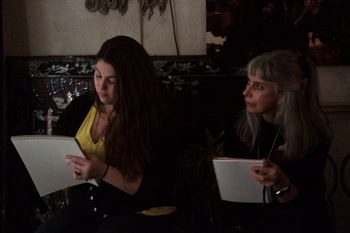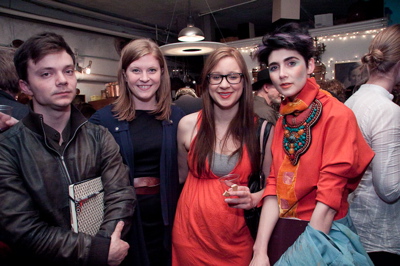 Our beloved Nicole Durbin center in red blouse.
Art Salon wouldn't be Art Salon without provocative performances. March's musical performance by The Cleaners brought the heat with a mix of original tunes and covers of crowd favorites like MGMT's Time to Pretend. The three piece band played two widely-enjoyed sets that seemed to resonate across the age-diverse crowd. The young Brian Parker also performed and though he seems to dislike being likened to an early John Mayer, the comparison is somewhat apt. That's a good thing though, so long as Parker keeps himself out of Page Six.
Finally, the bawdy performances of burlesque dancer Lady Scoutington showed us a world where sexy and funny collide. It's quite rare for someone as beautiful as Lady Scoutington to develop an interesting personality – much less a funny one – under such a pretty face, simply because they don't have to. Lucky for us, Scoutington is a different sort. How she managed to conceal a flask of whiskey, a full pint of beer, a wine glass, and a martini shaker all within one skimpy outfit may forever be a mystery, but it sure was fun watching her reveal them.
Catch the party yourself at the next Art Salon Party on Thursday, April 29th. $30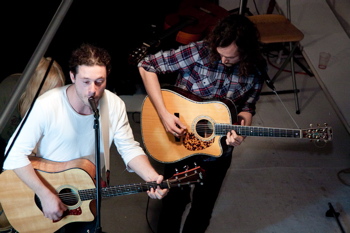 The band 'The Cleaners.'