S Magazine
Light Show
Gilles Larrain & Miho Nikaido
Styling by Masayo Kishi
Text by J.P.T. Molyneux
Photos Gilles Larrain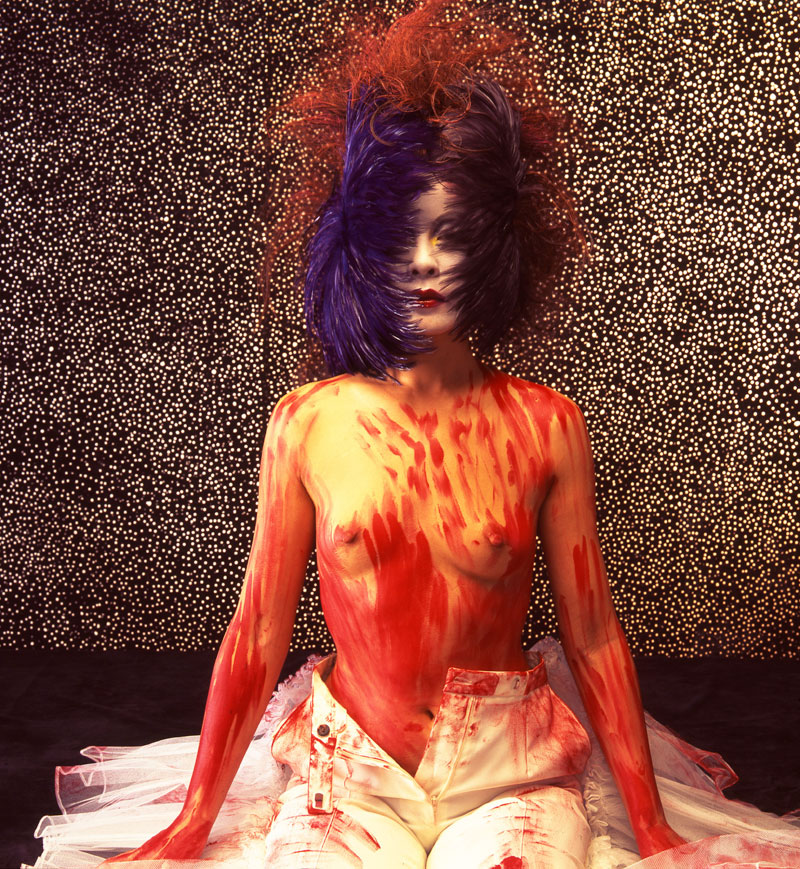 Some photography deserves words to go along with it. When the great photographer Gilles Larrain decides to shoot a subject who is as intriguing as the actress and dancer Miho Nicaido, commentary is in order, because it is not every day that two very authentic art icons free of faddishness; free of fraudulence meet, elevate each other's virtues, and thus elevate the craft of portraiture. For this exclusive shoot, which took place in New York's SoHo neighborhood in late 2009, S Magazine and its readers are particulary privileged.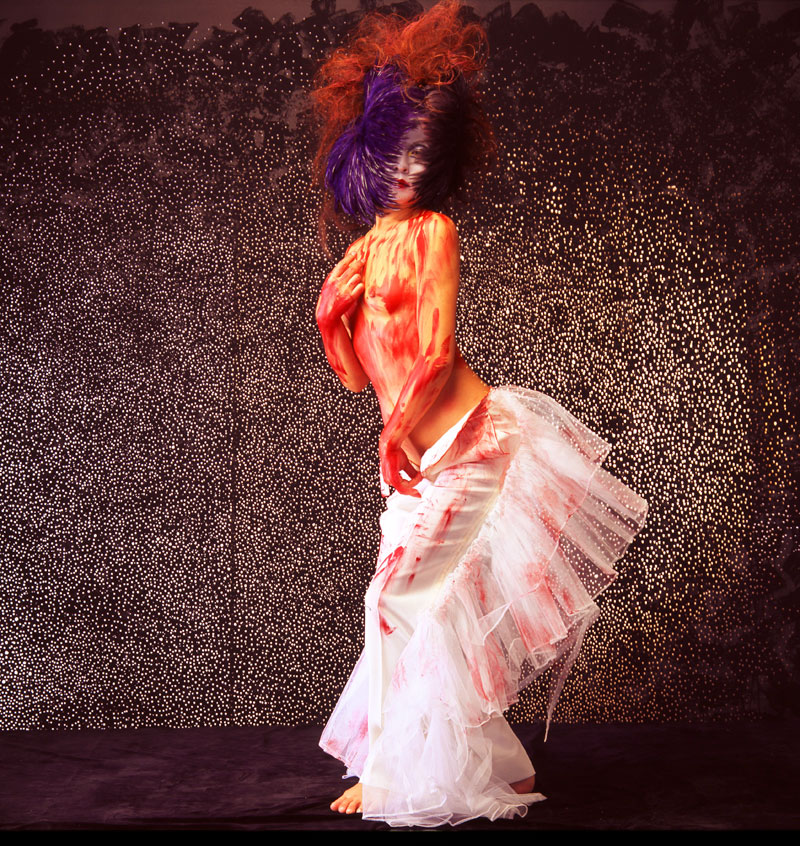 Gilles Larrain is firstly a fine artist. His métier only incidentally includesfashion and commercial work. He is also an elaborately constructed personality, very much tireless, as guitarist, chef, host, motorcyclist, and raconteur, all at the age of 71. All nevertheless meaningless on the day of this shoot, because the man that one may know personally as Gilles Larrain is not the artist one may witness when he photographs. His large personality goes silent. His opinions show only in how meticulously he needs the lights, set, hair, makeup, and camera to be. The charmingness is no longer conversational; it is now something closer to the origin of the word "charm," as a form of incantation, of casting spells. There is actually a better word for it than charm.
"It is an act of seduction, taking portraits," Larrain says to me. "Thereis no difference between creating a portrait of someone and when they are seduced." It is snake—charming people for artistic effect.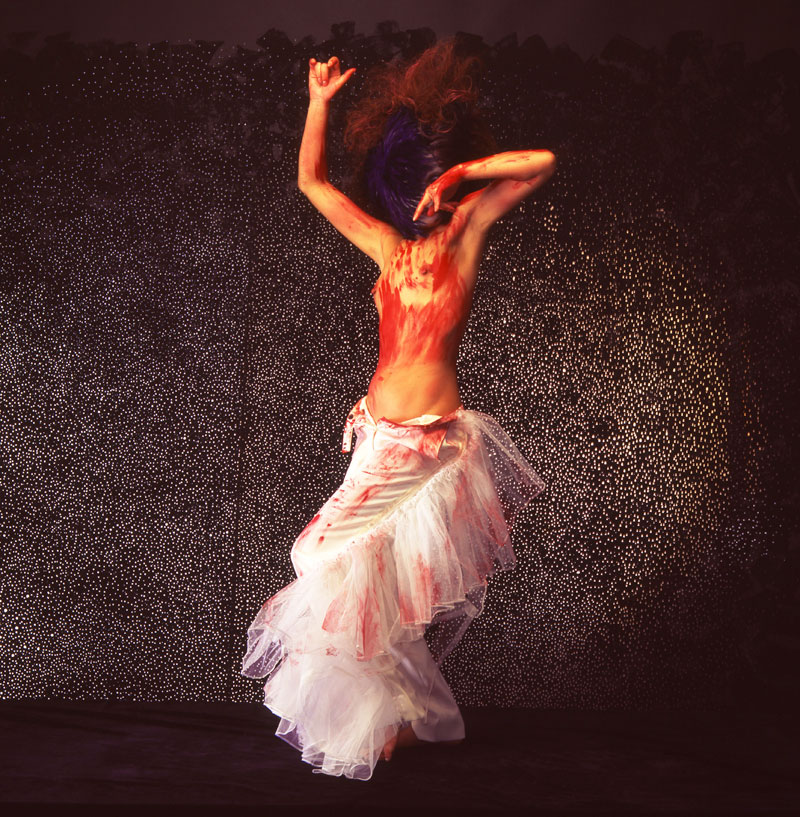 The artist greets the model at the door to his street—level loft. Once in, he walks her to a landing. There, three things become apparent to the model. As she takes the stairs down, the floor drops, the ceiling heightens, and the large room is now an enormous live/work/party chamber. Around on all the walls are photographic prints, medium to oversized, done by the same eye, of celebrities and luminaries (evidence that what takes place indoors has currency and admiration outdoors). Also: that a single person painstakingly built by hand the stairs, floor, walls, shelves, tabletops, and everything else.
lt is an enclosed universe completely of Gilles Larrain's own making, and the result is that he has control over the model without her even knowing it. She thinks she is free, and that's exactly how he likes it. For the remainder of the shoot, he is disarmingly careful, speaking as if questioning, capturing as if cooing. Nicaido waits while Larrain operates. Here is the gift: the stage is near stationary; the real ballet is behind the camera; the result on film, however, because we are speaking of a master, looks the reverse. Part flamenco, kabuki, marionette, striptease.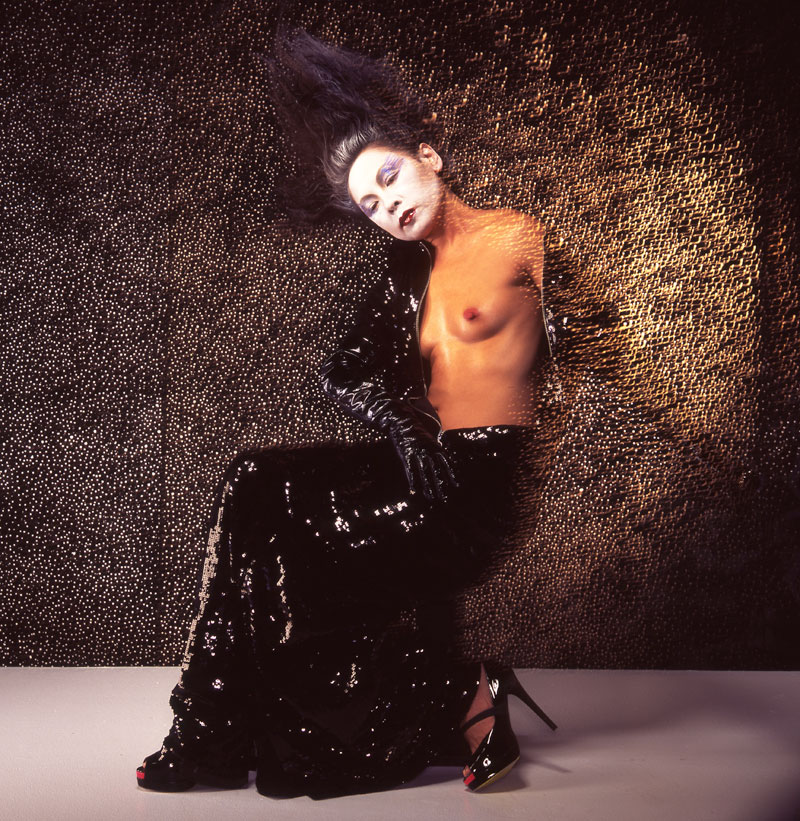 "There is a rhythm that l try to understand in my work. Somebody with an 'eye' can see things that are pleasing for the crowd or for the industry. But the meaning of the photos, how they evolve, and what they do to each other, sometimes there is a conflict —— it is not always pleasant. lt's not about making cute things. lt's about shaking the table, and thus waking up things. This is what I tried to do with these photographs."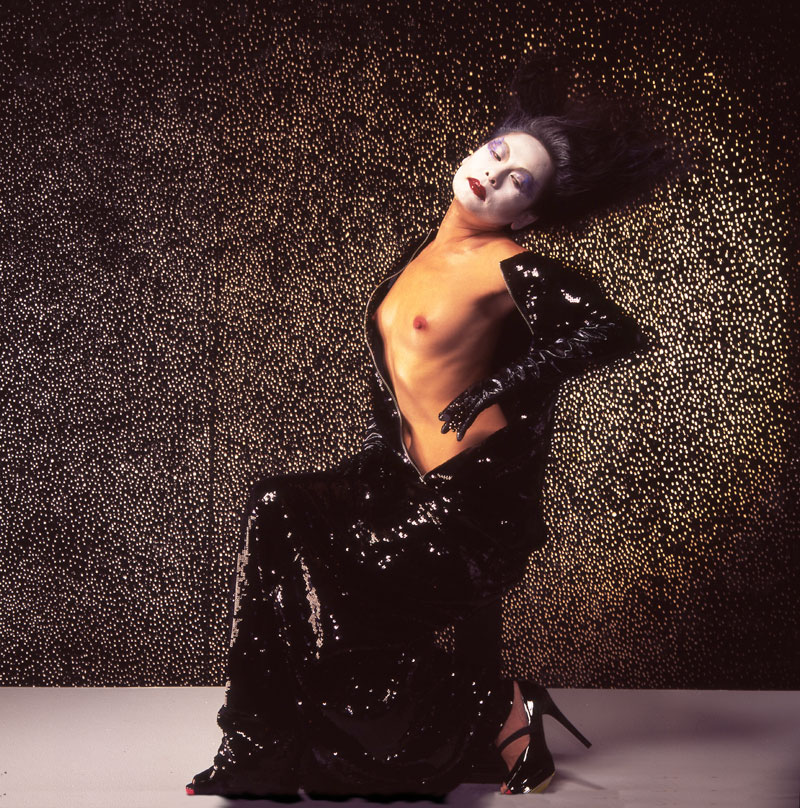 Gilles Larrain is to photography what Mavis Gallant is to Action, Ry Coda is to music, and Azzedine Alaia is to fashion. None of these is a common name in common households. All however, like Larrain, have a profession that reveres them for their expansive vision and technical mastery. They are classical revolutionaries —— and outsiders, as a result. They have qualities formed by geographical movement, where their variously embraced countries have not canceled each other out but have rather informed a higher sophistication. They are unclassifiable. In Larrain's case, his outsider status started at birth.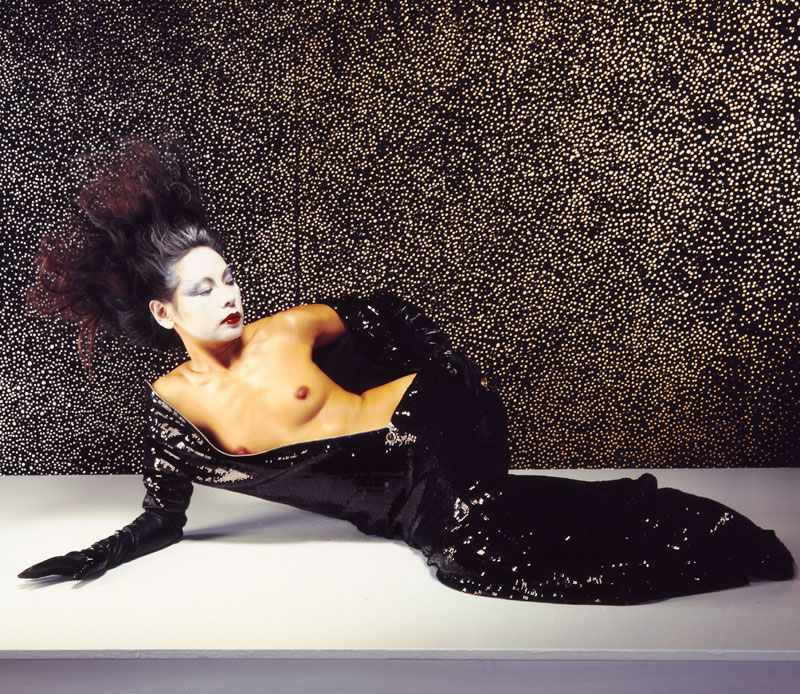 He was born in Dalat, Indochina. He owes his presence there to the transoceanic realities —— exotic, thankfully; ruinous, eventually —— of the old world order, the vestiges of the l9th century, where a diplomat from Chile might marry a daughter of the French political elite in what is now Vietnam. His parents will soon depart from there to South America, the United States, Canada, and France. Larrain the child will move constantly until settling into adulthood, when he will continue to move around of his own regard. In Mexico, he discovers photography. In Spain, he discovers flamenco. These are his twin passions, both adopted, and both for the most part self—taught. His outsiderness stems from his erratic upbringing and education.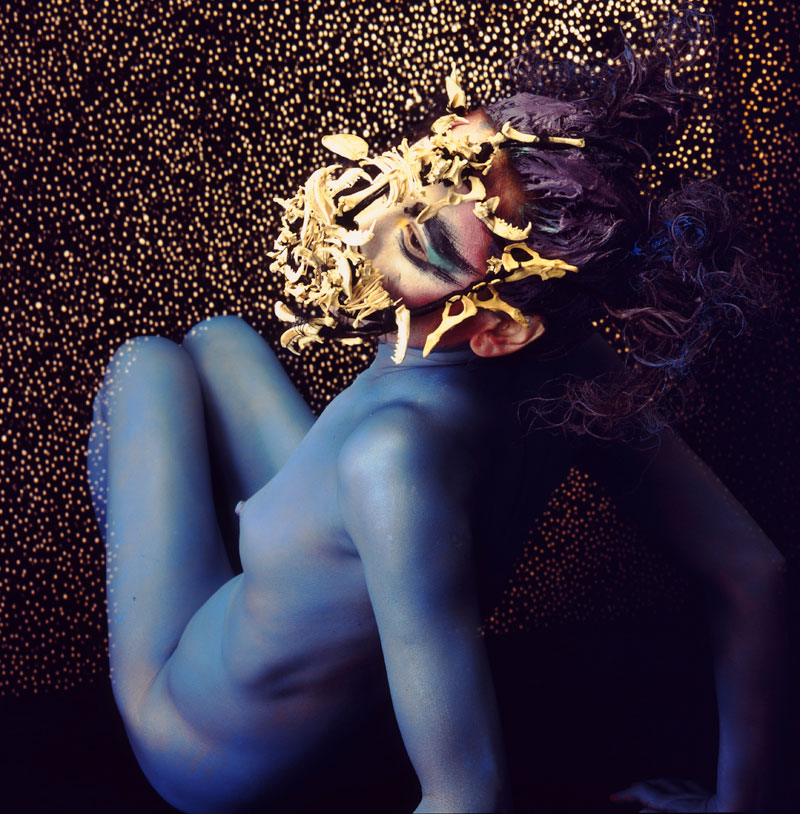 The most memorable constant in his youth was his loving parents: they loved him and art in equal measure. "My father was a painter and a collector of antiquities. He was a big collector of African art, at the beginning, when Braque and Picasso were also looking at it. My father knew Picasso. In 1948, or 1949, I saw my father and Picasso walking in the water in Juan—les—Pins, in Cote d'Azur. They both looked very much alike, their powerful bodies. But when you are a child, and you live in a house full of art, the only thing that is powerful is the art collection — definitely more powerful that you. And I never broke anything when I was young."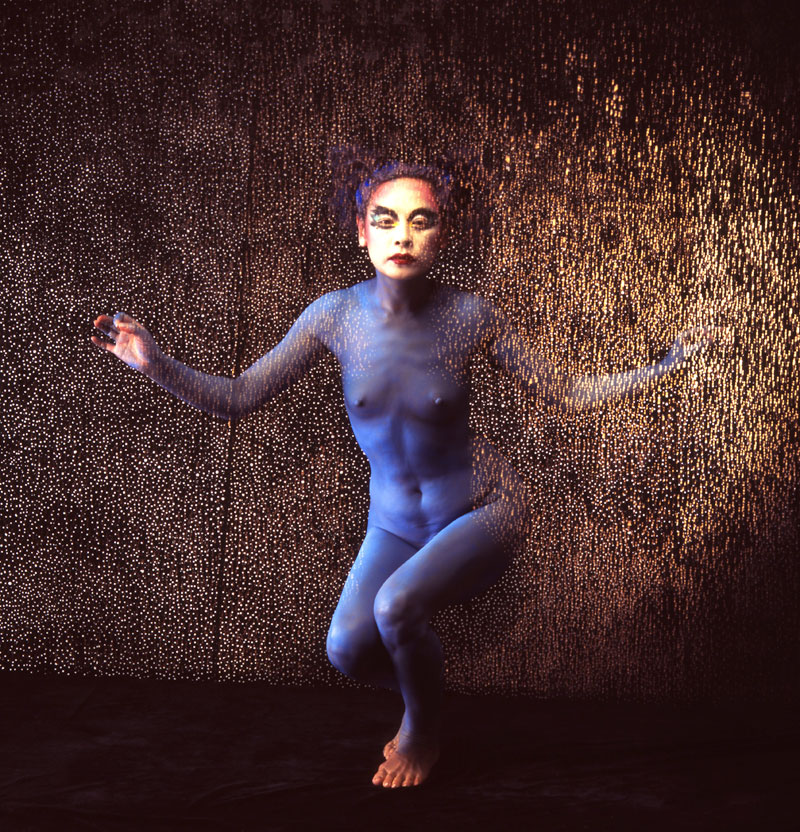 Larrain eventually settles in New York City, where he begins to practice photography in earnest, assaying his strengths at first with a self—financed book and exhibition. He creates a groundbreaking book on transvestitism, entitled Idols (that includes a young Harvey Fierstein). His recognition as a portraitist grows, and he captures on film the stars of the era: Miles Davis, John & Yoko, Norman Mailer, David Byrne, Glenn Close, others. His pictures of flamenco dancers and musicians emerge as without equal, so much so that, without his knowing, the hotbeds of the music in Spain — the practice and performance spaces — begin to pin them up on their walls. Eventually, commissions come, most notably, through Mikhail Braryshnikon, for the American Ballet Theatre. And yet, because of his unwillingness to exhibit regularly, do commercial work, or seek benefactors for his art, Larrain's outsider status strengthens over the years, and becomes mythic.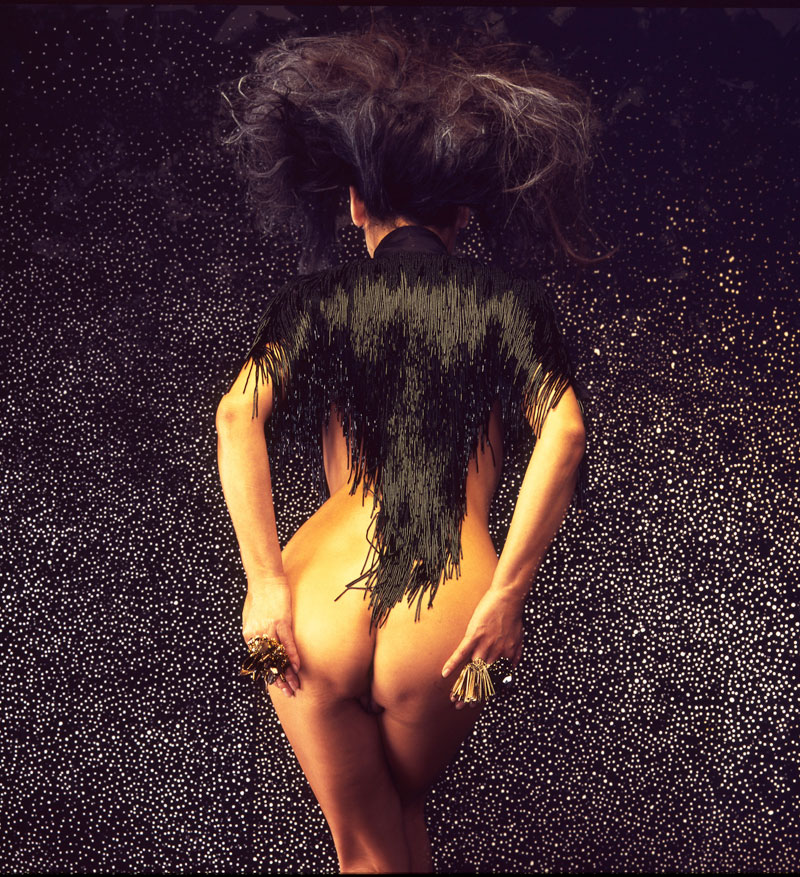 He has lived for as many years at the same location as the shoot. His new wife Louda, an artist and textile designer who has presented at the Metropolitan Museum of Art, shares not only Larrain's home but also the energy behind what Larrain currently creates. The two of them are now simultaneously at work on several photographic "series" that require a bit of explaining to the newly introduced. In the most vivid of these series, the way it was explained to me, action figures, paper cutouts, food (especially fruit), small animal bones, and tattooed human models all go into elaborately contrived set pieces with religious and mythic overtones. The work is wholly unclassifiable.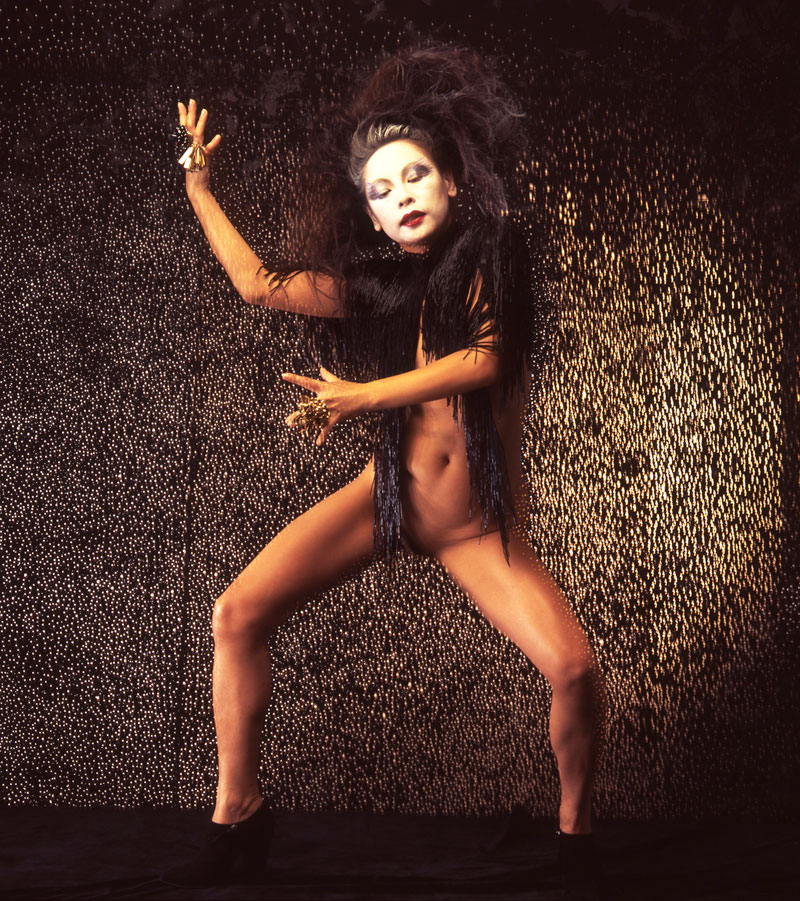 With Miho Nicaido, Larrain found someone extraordinarily willing and talented to photograph. Nicaido is best known perhaps for her portrayal of an S&M call girl in Rya Murakami's l992 underground classic "Tokyo Decadence" (known in parts of the world as "Topaz"). Nicaido gained both critical and audience respect for her willingness in the movie to endure scenes of great humiliation and punishment receiving and providing. She has since performed in more than a dozen projects for screen and stage, most notably with her husband, the director Hal Hartley. Here, her ability to interpret what Gilles requires in each shot has resulted in images of iconic proportions. It is further dance that he has photographed, after flamenco and ballet. It is the perfect antidote to today's quick and—dirty photography aesthetic. We are lucky to have such evidence of the encounter between Larrain and Nicaido. It is worthy of these pages and, one can hope, the walls of Larrain's universe as well.