Vice Magazine
Published March, 2010
GILLES LARRAIN'S OPENING WASN'T A DRAG AT ALL
By Harry Cheadle
Photos by Ashley Sebök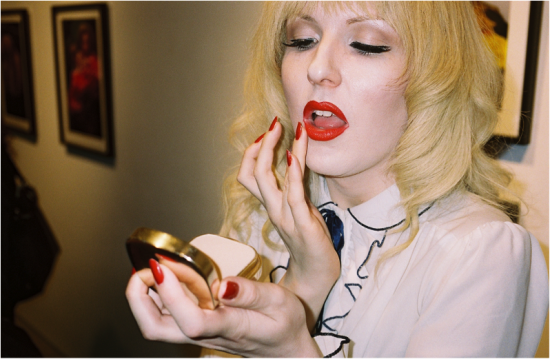 As you may remember, last year we had Ryan McGinley interview famed photographer Gilles Larrain about his 1973 book, Idols, which Ryan called "one of the best photography books I've ever seen." Well, guess what? Its re-release by Powerhouse Books is being celebrated with an exhibition at Steven Kasher Gallery, in Chelsea, featuring king-sized prints of Gilles's portraits of drag queens.
The portraits all date from the early 70s and are a time capsule of the glammy, gender-bending scene that existed in the city in those days—the scene that basically created art and fashion as we know it today, by the way. Back then, Gilles would throw monthly "salons" at his studio in Soho and the crowd would come after a night of partying at Max's Kansas City to get photographed and party some more. New York City was undeniably a dirtier place back then, but none of that grime is evident in these photos, which were shot on beautiful Kodachrome film against backdrops that Giles painted himself. The drag queens as seen through Gilles's lens are fabulous in every possible definition of the word. Some of the faces have famous names attached like Harvey Fierstein of the New York Dolls. But even if you didn't know that, you'd think that every single person Gilles shot was a megastar.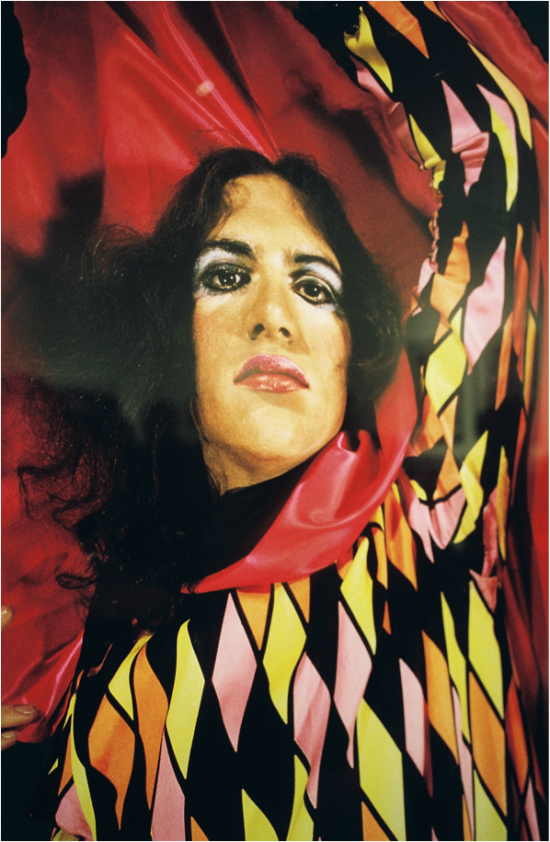 Thursday night, at the opening reception, not only were the photos on display, so was a cross-section of New York's gallery-goers. Impossibly sharply-dressed guppies, perfectly coifed young women who looked like they'd stepped out of a clothing catalogue, the dignified middle-aged European men you see everywhere in the city, clothing designers wearing their own products like plumage, and of course, a couple resplendent drag queens. Our intern Ashley was on hand to photograph the scene.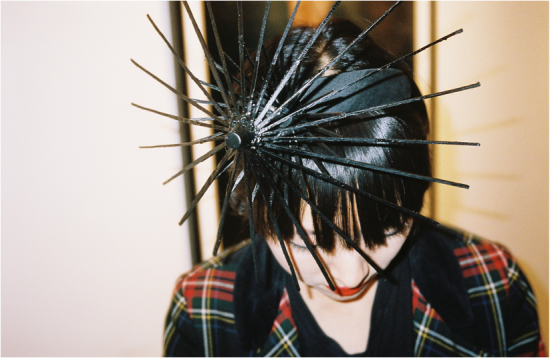 This is Heidi Lee, a designer who was dressed in a plaid suit that made her look like she had time-traveled from Scotland in 2025. She made her own hat.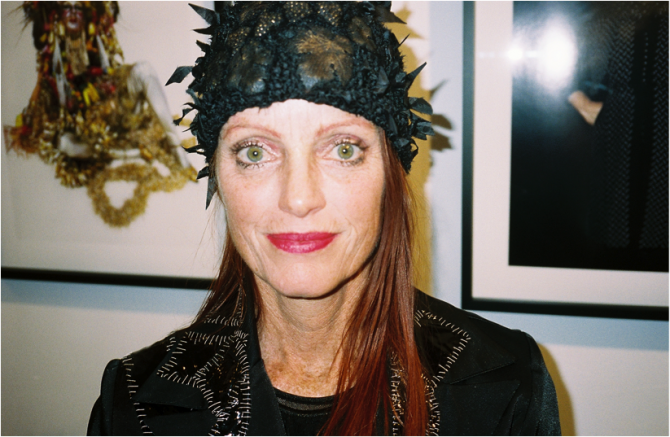 Coco is one of Gilles's three ex-wives. She did not make her own hat. She does oil paintings of people's pets.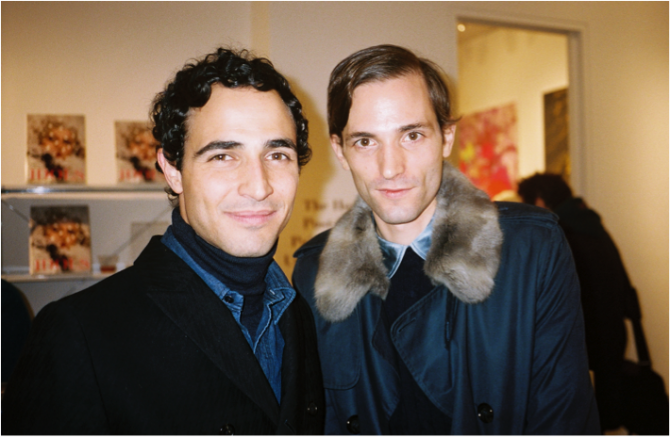 Designer Zac Posen is on the left. As you can see, some of the people dressed to impress…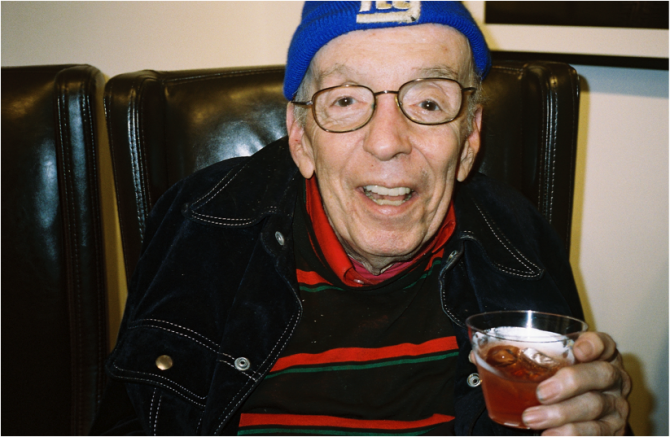 And some knew they didn't have to. This guy is a well-known denizen of the Village, but we didn't catch his name. When Ashley went to take his picture, he said, "Give me the flash! I like the flash!"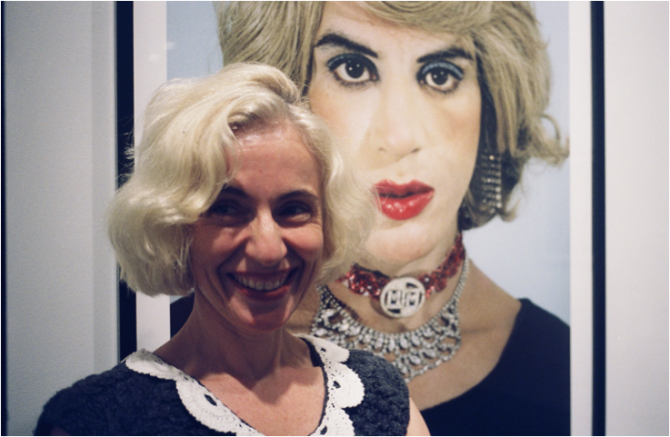 This woman's husband told her she looked like the photo of the drag queen behind her. They must have a good relationship when he can say she looks like a tranny and she smiles like that.
Did you know that Gilles made that guitar? Pretty awesome guy, right?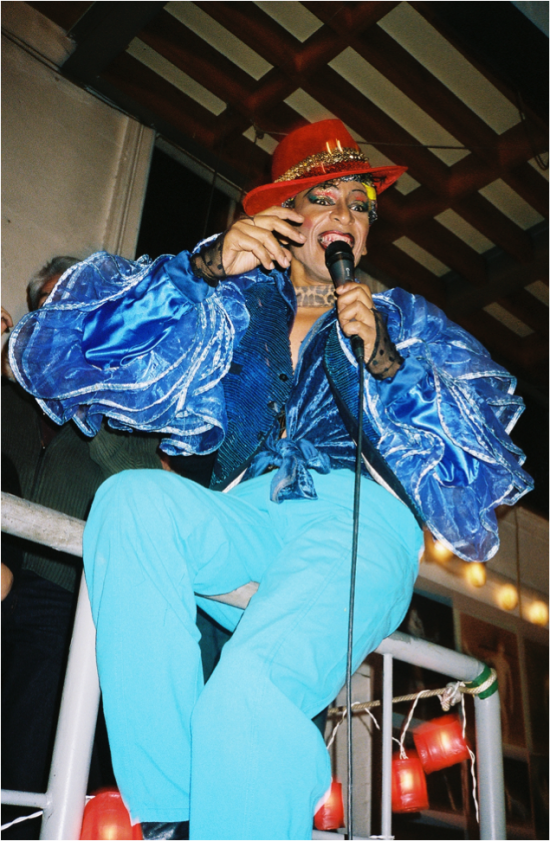 Later, a bunch of people went to Gilles's studio to hang out, just like old times. They were entertained by a couple musical acts, including Joaquin, one of Gilles's former models who came all the way from Berlin. We bet you wish you look that good when you're that age, or any age.
Gilles Larrain's Idols exhibition is open to the public and runs through December 23 at Steven Kasher Gallery, located at 521 W. 23rd St., New York, NY 10011. Gallery hours are Tuesday through Saturday, 11 AM to 6 PM