Gilles Larrain – May 2009
Written and Illustrated by Lynn Matsuoka
Aninvitation to the GoTo SoHo Salon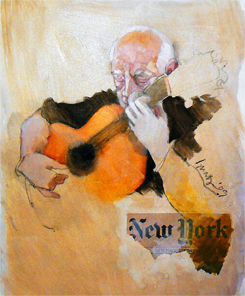 This is an invitation to what is becoming the Destination SoHo Art Salon Party, a convergence of talented artists, special musical guests, and the great photographer (and philosopher) Gilles Larrain's compelling Flamenco guitar performances on his vintage Gurian Guitar throughout. Food, wine and the artsy atmosphere of Gilles' Grand Street Studio combine with encourage excitement and interaction with the artists. Their artwork mostly created on site during the Salon is on display and available for sale at startup-friendly prices. I am there as well, doing a limited number of 5-minute portraits for same.
Gilles has spent years photographing the icons of our time, in kinetic and thoughtful art photos you can enjoy when visiting the studio. Artists and designers usually work alone … working together in the salon is a "very cheerful thing" says Gilles, who, together with his artist/designer wife Louda, host the once monthly event. Louda, who was a textile designer for top fashion houses for many years, now designs limited edition fashions, and participates in the Salon as one of the artists, her drawings large and vibrant with color.
Quoting Gilles, we arc "trying to experiment with the reactivation of the French intellectual gathering, popular in France during WW1.
Wikipedia defines the Salon as something "private and public, for intellectuals to meet, discuss ideas and watch artistic performances".
That describes the monthly Salon Party, to implement potential and connect the artist with the world at large. For the artist, it works to "activate the desire of participation in the creative process" says Gilles, who agrees that the artist, in this economy, is getting bypassed by people who are forgetting how important art is in our lives.
To paraphrase, Gilles believes we need an antidote to the depressions and downturn in the art world. Recall the Dadaism movement vs Fascism; surrealism developed to escape the reality of boring, morbid lives during 1920's Enrope. The movement created hope and diversity.
This is the role of the artist. To inspire society to creative thought and activity. To isolate elements of beauty in a drawing or painting, in a passage of poetry or prose, in a moving passage of music.
Again, quoting Gilles:
"We are entering a very dark age with our friends losing homes and jobs. People are scared, even paralyzed by a contraction of life. The piggy bank is broken baby. (That is why we) have to do this-it doesn't cost too much money and gets people excited."
Louda and Gilles welcome people to enter a 'lab of creation' where they can partake in the process of drawing life, models, dressed and naked. To explore the beauty of the nude. This will he a destination in SoHo the last Thursday of the month, to explore a social & networking atmosphere, a 'club for humanity'. It is for people of like interests to meet and discover each other. This article is to welcome you to this new adventure.
To see the many layers of the brilliant artist Gilles Larrain, please see www.gilleslarrain.com. Louda's fashion and artwork can be seen at www.loudacollection.com
For your invitation to the Art Salon Party, and to add your name to the guest list, please go to Gilles Larrain Art Salon Party