Gilles and Louda Larrain's Lucky 13th
By Frank Pasquine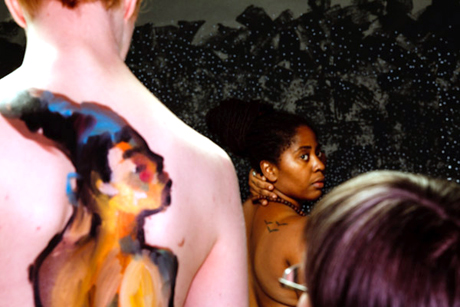 Images courtesy of Kieth Lew. Keithlew.com
Finally, I found an artist who would paint a nude model on the back of another nude model. Another check off the wish list for this young fellow. This was just a tease of what Gilles and Louda Larrain had to offer at their 13th Art Salon Party. The Art Salon Party is an exciting exhibition of various arts that takes place on the last Thursday of every month (not including November and December for the holidays.) January's last Thursday was no exception, as it became the first of the new decade.
At first it felt as though I was interrupting a painting class, with nudes prominently displayed on center stage and artists' interpretations being laid out onto sketch paper. Though after a quick once over at Louda's work, it was obvious these were no amateurs. Providing a calming acoustic atmosphere was the main man himself,
Mr. Gilles Larrain
. He warm-heartedly opened up his studio, as if we were welcomed family coming over for the holidays. (Well, at the least family members one would enjoy spending time with.) The married couple eats, sleeps, and breathes art. Louda was kind enough to show me her work, which ranged everywhere from imaginary and colorful gowns to experimental superhero hats – a few of which this writer wouldn't mind rocking on a Saturday evening.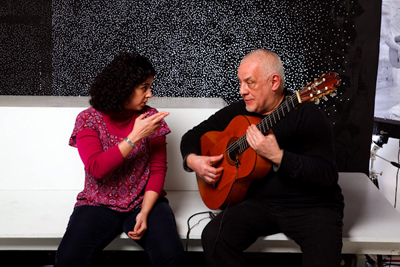 Painter and all around art networking connoisseur, James Rose, was a key organizer for the performers at hand. James explained to me how events like Art Salon are perfect for today's economy. Let's face it; art aficionados are keen on various platforms of expression. So, why not combine a variety of performers into one event? This is exactly what we witnessed.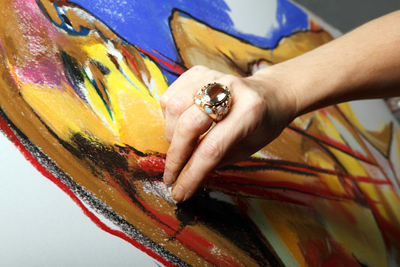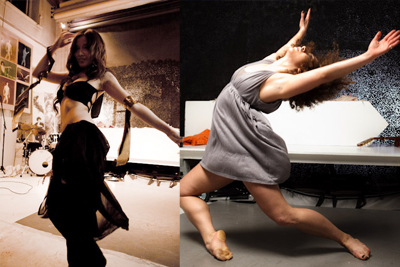 Dancers
After the models took a break from the main stage, it was time for something more laid-back. But, this wasn't your typical party. Instead, the energy kept its pace with a modern burlesque-ish dance from the lovely Atiya. Atiya's sensual moves and seductive dancing hit right to the soul, and left our bodies in a state of rigor mortis. Jasmin Rituper followed the performance with another fantastic dance interpretation of her own. Needless to say, another glass of red was imminent.
With the vino gradually pumping through my veins, and the atmosphere becoming all the more liberal, it wasn't long before this observer was pulled into a conversation with a group of interesting women. Not to get too off topic, but the debate on hand dealt with cheating amongst the male gender. These fine ladies were a great conversation, and immediately took to me as a bull's-eye for the male population. One particular lady, Saskia Slaaf, made it clear that she can sense foul play, like a canine at the scene of a crime. After protecting myself from a verbal assault of personal questions (thanks Kate and Alba for additional protection), Miss Slaaf proceeded to the front of the room, where she became the nude canvas at hand. Not bad for a ten minute conversation with the vixen.
The night concluded with the classical vocals of Elaine Lachica. Behind her was a band that was sort of a fusion between rock and jazz. Originally Elaine and her band were set to treat us with a sampling of three of their favorite works, however the elation from the audience made way for two encore performances.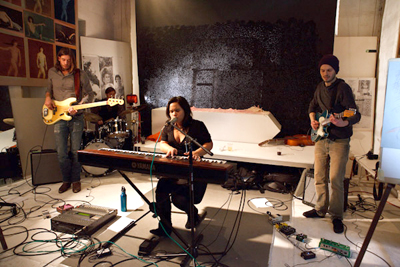 By the end of the night I found myself sketching a stunning young model with Mrs. Alba Arellano. While it's true I dabble in sketching, it had been a while since I've picked up the ol' pad and pencil. My, how the power of beauty and all around artistic energy can bring out the imaginative capabilities of a writer. Count this guy in for February's party!
For further photos- go to Keith Lew's photo gallery.